As a responsible utility group, we conduct and develop our business in such a manner that we not only achieve our business objectives but also satisfy the social needs and minimize the negative impact on the environment.
We are committed to a sustainable and responsible transformation towards zero- and low-emission energy sources and a greater diversification of the existing value chain. We are constantly adjusting to the market environment, e.g. by developing innovative technologies and new business lines.
MISSION
ENEA provides reliable products and services to its customers by building lasting relationships based on respect for the environment and shared values.
VISION
ENEA is a leading supplier of integrated products and services valued for quality, comprehensive approach and reliability.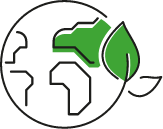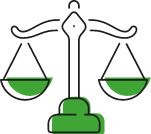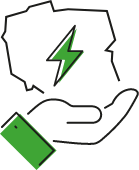 In connection with the changes in the immediate and further surroundings of the company and the fuel and energy sector (in terms of regulations and market conditions), rapid progress of technology in all areas of the value chain, the need to respect the environment and support the European Union's climate objectives, as well as in response to stakeholder expectations, on 16 December 2019 we updated our long-term development strategy. In accordance with the Development Strategy of the ENEA Group until 2030 with an outlook to 2035, the Group focuses on transformation to a low-emission concern and on investments in new products and services featuring advanced IT and digital solutions. The document contains the goals that the Group is to achieve in the short-, medium- and long-time horizon (up to 2025, 2030 and 2035, respectively).
Key directions for the Group's growth
These development directions form a foundation which is used to define strategic objectives for the Group.
OVERRIDING STRATEGIC OBJECTIVE
Continuous growth of the value of the ENEA Group, while ensuring sustainable development.
Our strategic objectives: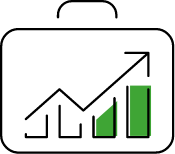 Diversification of the Group's generation portfolio

Reliability and continuity of electricity supply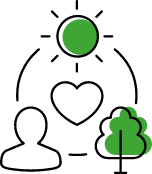 Responsible partner in sustainable management of relations with local communities, the environment and customers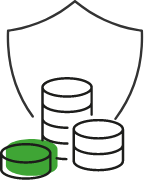 Ensuring financial security of the Group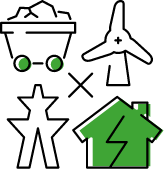 Innovativeness in all aspects of the Group's activity
Implementation of the Strategy will have a significantly positive impact on the Polish economy, social and natural environment.
Expected effects of the Strategy implementation
| Objective to be achieved | 2025 | 2030 | 2035 |
| --- | --- | --- | --- |
| CO2 emission factor | | 550 kg CO2/MWh | 434 kg CO2/MWh |
| Share of RES in electricity production | 22% | 33% | |
| Share of zero-and low-emission generation sources in the Group's total electricity production | 22% | 41% | 60% |
| Sales of electricity | | 24,8 TWh | |
| Share in the Polish market of sales of electricity | 14% | 15% | |
| Installed capacity | 7 447 MW | 8 287 MW | 9 672 MW |
| Share in the market of coal sales to the commercial energy sector | 25% | 30% | |
| An increase in EBITDA as compared to 2018 | 35% | 39% | |
| The share of R&D&I expenditures in the ENEA Group's total capital expenditures | | 2% | |
till 2035, of which PLN 22 bn to finance new generation capacity, supporting our transformation into a low-emission concern
ENERGA Group's Strategy vs. climate
In early 2020, ENEA S.A. entities responsible for strategic management, growth management, risk management and social responsibility started internal consultations regarding the possibility of conducting analyses of the climate impact of the company's business model and vice versa (both positive and negative) as well as analyses of resilience of the business model and strategy, taking into account various climate-related scenarios. As at the date of publication of this report, no final executive decisions have been made in this matter.